Every seller on JD CENTRAL platform offers After-sales services to ensure each and every customer a pleasant experience while shopping at JD CENTRAL. The Seller offer customer the possibility to return product within 7 days. The conditions depend on seller and information can be found on the product description page. The return warranty duration is count from the date that customer received the product including weekends and holidays. Remark: There are two types of sellers on JD CENTRAL Platform. Local Sellers (Based in Thailand) and Global Sellers (Imported Sellers).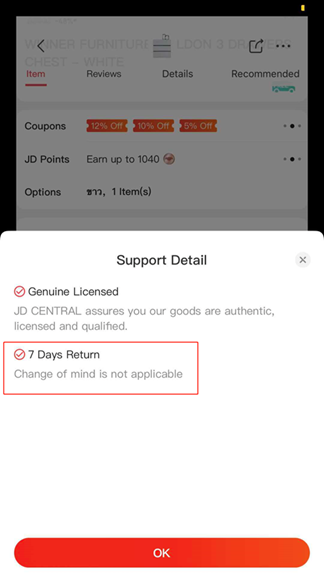 Moreover, seller offers different options for After-Sales services please see the information in below table:

Please see the below information for the details and requirements to apply for our After-sales services.
"Return for Refund" or "Refund" refers to when a customer wants to return the purchased product to the Seller and intends to receive a refund for such transaction.
"Exchange" refers to when a customer wants to return the purchased product to the Seller and intend to receive a brand new product of the same kind, size, color, and specifications of such product returned.
The Seller has the discretion to refuse any After-sales application that does not fulfill the requirements and conditions specifies in this After-sales policy.
Process of after-sales service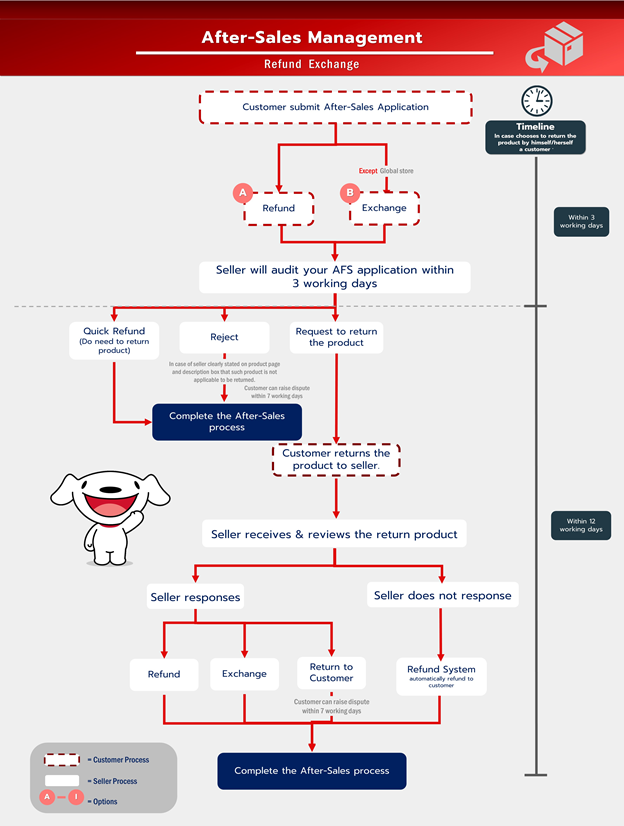 Requirements for applying an After-sales service application

1. Conditions eligible to apply an After-sales service application
In order to apply any after-sales application, the conditions of the returned item(s) and its packaging must fulfill the following conditions: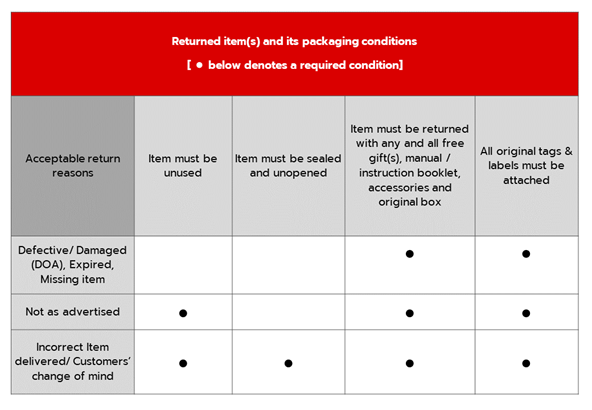 Remarks:
"Defective" means that the item does not function as described in the manufacturer's specifications.
"Damaged (DOA)" means damaged on arrival, and/or has visibly damaged packaging.
"Expired" means the date of item receipt had passed item's warranty period or best before date.
"Missing item" means the item is short of major parts or accessories.
"Not as advertised" means the function and / or appearance is not as described according to specifications on our website.
"Incorrect item delivered" means wrong item delivered by the seller.
"Customers' change of mind" means customers have decided to reverse their purchase decision for the reason(s) other than any of the above mentioned.
For any cases of 'Incorrect Item Delivered', the product's seal should not be broken unless the item may not be differentiated visually and solely based on the information provided on the box or packaging.
In case the returned items do not meet the conditions required by this policy, such items will be returned to the customer. In which the after-sales application of such item will be deemed rejected.
The items in the list below are not eligible to apply for any after-sales services due to 'Customer's Change of Mind' reasoning: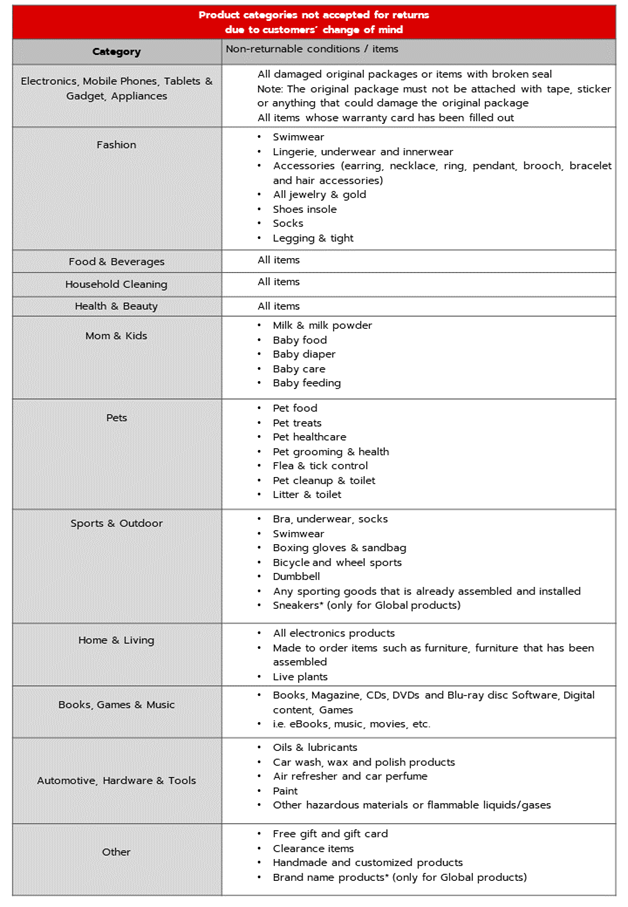 Due to regulations on hygiene issues, certain product categories or conditions cannot be returned solely due to customers' change of mind. In which, those products include custom-made products, fresh and perishable products, products that may face hygiene issues if unsealed, products that may not be resold once activated or tested, products near its end of shelf life or are defective, products that are shown as non-returnable on its page, and products with any other conditions that deem not returnable.
After-sales service options
1. Exchange
Exchange is only applicable to the product of the same kind, color, size, and specification. If such product becomes out-of-stock, the Seller reserves the right to handle each case on a case-by-case basis.
2. Refund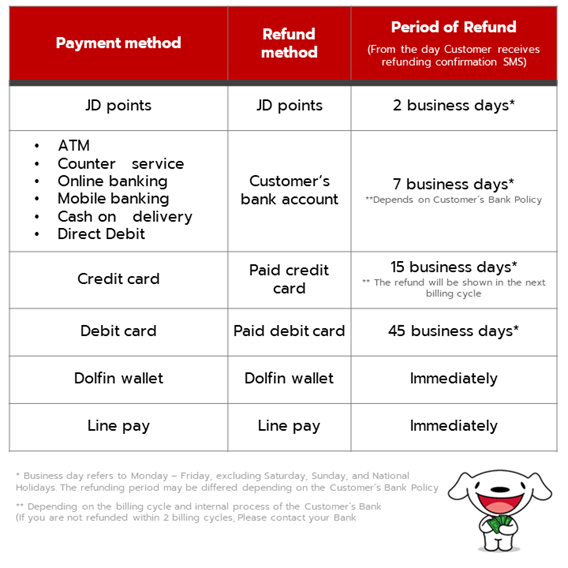 Remarks:
Debit and credit card refund depends on customer's bill cycle and refund policy of customer issuing parties (if the refund does not arrive after the two months' statements, please contact customer's issuing parties directly for support)
Addition requirement
JD CENTRAL may contact the customer s and request for further proof and documents to facilitate the refund process.
If any customers refuse to provide evidence relating to the reason of his or her after-sales application, JD CENTRAL reserves the right to not approve such refund process.
If any customers refuse to provide the information about such customer's bank account, JD CENTRAL reserves the right to not approve such refund process.
JD CENTRAL reserves the right to not provide any other form of refund. Any Sellers provide refund options other than the options stated in this policy, such Seller is solely responsible for their actions. JD CENTRAL is not responsible for any other refund options that any Sellers offer other than the options prescribed in this policy.
Return assessment's turnaround time
1. The item(s) that sold by local and global sellers the process of return is under seller's ability.
2. Return shipment costs
On the condition of "change of mind" the seller reserves the right to not reimburse the Return Shipping fee.
"Return Shipping fee" - The shipping fee that customer pays to return the parcel back to JD Central Return center.
3. Delivery Terms & Conditions
3.1 Merchandise value and liabilities
- JD CENTRAL reserves the right to refuse delivery of orders with incomplete shipping addresses.
- JD CENTRAL reserves the right to withhold any delivery charges if the orders are rejected upon delivery and Delivery must be accepted or rejected in its full and entire order.
- Should customers have any questions or need further assistance, please contact JD CENTRAL's Call Center at 02-030-4599
3.2 Shipping of oversized items or items requiring installation
- JD CENTRAL reserves the right to deliver orders only within its published delivery area.
- Delivery staff may contact customers and sellers for more details of the delivery route.
- In the event of natural disasters along with any delivery route, the delivery may be delayed. The delivery staff will contact customers should there be such a case.
- Change of delivery address may not be done after an order is confirmed.
- Certain products require recipients to be of minimum age in compliance with government regulations. The ID card or any other legal proof of age of the recipient will be required upon delivery.
- If an order is rejected upon delivery, JD CENTRAL reserves the right to withhold any and all delivery charges.
- Please note that items from Pomelo's store cannot be exchanged but are still refundable, subject to the standard terms and conditions. Customers wishing to return an order free of charge can do so by first applying for a refund through JD CENTRAL's website or app and then dropping off their parcel, with a refund application form enclosed, at the nearest 7-Eleven, Pomelo store or Skybox.
- Pomelo refund application form must be returned with the item. If customer lost it, please contact JD CENTRAL Customer Service- After-sales service team
- Oversized item means item weighing more than 20 kg or items with aggregate dimensions (length + width + height) greater than 150 cm
- Shipping and installation of oversized items will be carried out directly by third-party sellers or contracted service providers according to seller or manufacturer standards.