How can I find my card's expiration date and Card Verification Code (CVV Code)?
For your safety and security, you will be required to input your card's verification code and expiration date when checking out with your credit card.
If you are using Visa, MasterCard, Diners or Discover, your verification code is the last 3 digits of the number that appears on the back of your card in the signature bar.
If you are using American Express, your verification code is a 4-digit number printed on the front of your card. It appears above and to the right of your card number.
The expiration date is shown on the front of the card.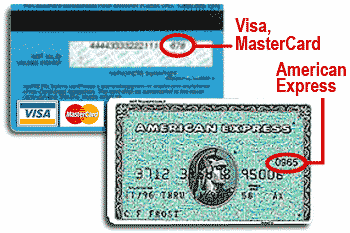 Resolved ! Thank you for your participation !