Help Center
>
After-sales Service
>
Q&A
>
After after-sales application is closed
I still have not received my refund after promised refund time has passed
After seller processed customer application as refund, the refund will be initiated within 3 business days to the issuing banks. Customer can call the issuing banks for refund process tracking or can see the refund timeframe as below: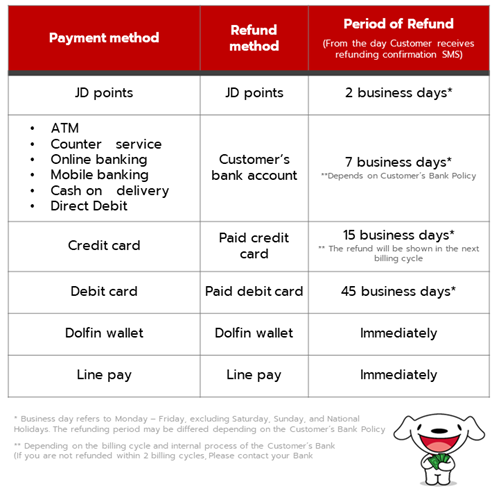 Remarks: Debit and credit card refund depends on customer's bill cycle and refund policy of customer issuing parties (if the refund does not arrive after the two months' statements, please contact customer's issuing parties directly for support).

If customers have any questions or need further assistance, please contact JD CENTRAL's Call Center at 02-030-4599 or email us at cs@jd.co.th.
Resolved ! Thank you for your participation !